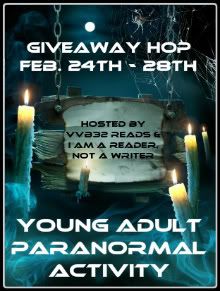 Thank you for stopping by and checking out my giveaway! It's my very first one! I'm so excited for the opportunity to participate in this blog hop and
offer one lucky winner
TWO
of these four paranormally awesome books:
The Hematoi descend from the unions of gods and mortals, and the children of two Hematoi-pure-bloods-have godlike powers. Children of Hematoi and mortals-well, not so much. Half-bloods only have two options: become trained Sentinels who hunt and kill daimons or become servants in the homes of the pures. Seventeen-year-old Alexandria would rather risk her life fighting than waste it scrubbing toilets, but she may end up slumming it anyway. There are several rules that students at the Covenant must follow. Alex has problems with them all, but especially rule #1:Relationships between pures and halfs are forbidden. Unfortunately, she's crushing hard on the totally hot pure-blood Aiden. But falling for Aiden isn't her biggest problem--staying alive long enough to graduate the Covenant and become a Sentinel is. If she fails in her duty, she faces a future worse than death or slavery: being turned into a daimon, and being hunted by Aiden. And that would kind of suck.
~Goodreads description of Half-Blood by Jennifer Armentrout
There isn't much worth living for in Gypsum, Missouri—or Trashtown, as the rich kids call the run-down neighborhood where sixteen-year-old Hailey Tarbell lives. Hailey figures she'll never belong—not with the popular kids at school, not with the rejects, not even with her cruel, sickly grandmother, who deals drugs out of their basement. Hailey never knew her dead mother, and she has no idea who her father was, but at least she has her four-year-old foster brother, Chub. Once she turns eighteen, Hailey plans to take Chub far from Gypsum and start a new life where no one can find them.
But when a classmate is injured in gym class, Hailey discovers a gift for healing that she never knew she possessed—and that she cannot ignore. Not only can she heal, she can bring the dying back to life. Confused by her powers, Hailey searches for answers but finds only more questions, until a mysterious visitor shows up at Gram's house, claiming to be Hailey's aunt Prairie.
There are people who will stop at nothing to keep Hailey in Trashtown, living out a legacy of despair and suffering. But when Prairie saves both Hailey and Chub from armed attackers who invade Gram's house in the middle of the night, Hailey must decide where to place her trust. Will Prairie's past, and the long-buried secret that caused her to leave Gypsum years earlier, ruin them all? Because as Hailey will soon find out, their power to heal is just the beginning.
~Goodreads description of Banished by Sophie Littlefield
Everything is made of steel, even the flowers. How can you love anything in a place like this?
Daphne is the half-demon, half-fallen angel daughter of Lucifer and Lilith. Life for her is an endless expanse of time, until her brother Obie is kidnapped - and Daphne realizes she may be partially responsible. Determined to find him, Daphne travels from her home in Pandemonium to the vast streets of Earth, where everything is colder and more terrifying. With the help of the human boy she believes was the last person to see her brother alive, Daphne glimpses into his dreams, discovering clues to Obie's whereabouts. As she delves deeper into her demonic powers, she must navigate the jealousies and alliances of the violent archangels who stand in her way. But she also discovers, unexpectedly, what it means to love and be human in a world where human is the hardest thing to be.
~Goodreads description of The Space Between by Brenna Yovanoff
One night Kylie Galen finds herself at the wrong party, with the wrong people, and it changes her life forever. Her mother ships her off to Shadow Falls—a camp for troubled teens, and within hours of arriving, it becomes painfully clear that her fellow campers aren't just "troubled." Here at Shadow Falls, vampires, werewolves, shapshifters, witches and fairies train side by side—learning to harness their powers, control their magic and live in the normal world.
Kylie's never felt normal, but surely she doesn't belong here with a bunch of paranormal freaks either. Or does she? They insist Kylie is one of them, and that she was brought here for a reason. As if life wasn't complicated enough, enter Derek and Lucas. Derek's a half-fae who's determined to be her boyfriend, and Lucas is a smokin' hot werewolf with whom Kylie shares a secret past. Both Derek and Lucas couldn't be more different, but they both have a powerful hold on her heart.
Even though Kylie feels deeply uncertain about everything, one thing is becoming painfully clear—Shadow Falls is exactly where she belongs…
~Goodreads description of Born At Midnight by C.C. Hunter
Here are the official rules/guidelines for the giveaway:
You must be a follower of this blog.

Just click the Join this Site box below "Followers" on the sidebar.
You can gain extra entries by following me on Twitter and/or "liking" my Facebook fan page.
This is open to international followers. (Only if The Book Depository ships to your country; please check this link to see if your country's included.)
Even though you don't gain extra entries, feel free to friend me on Goodreads or leave a comment below because I'd love to hear from you!
This contest runs from February 24 - 28.
The winner will be selected on March 1st via Rafflecopter random selection and announced in this post. You will have 48 hours to respond or I will draw another winner.
***
As the winner, if you are just dying to get another YA book, then you may substitute one of the books listed above for another of similar value from The Book Depository
***
Thanks Again & Good Luck!
a Rafflecopter giveaway
Also, make sure to check out the other blogs participating in this Giveaway Hop, too!